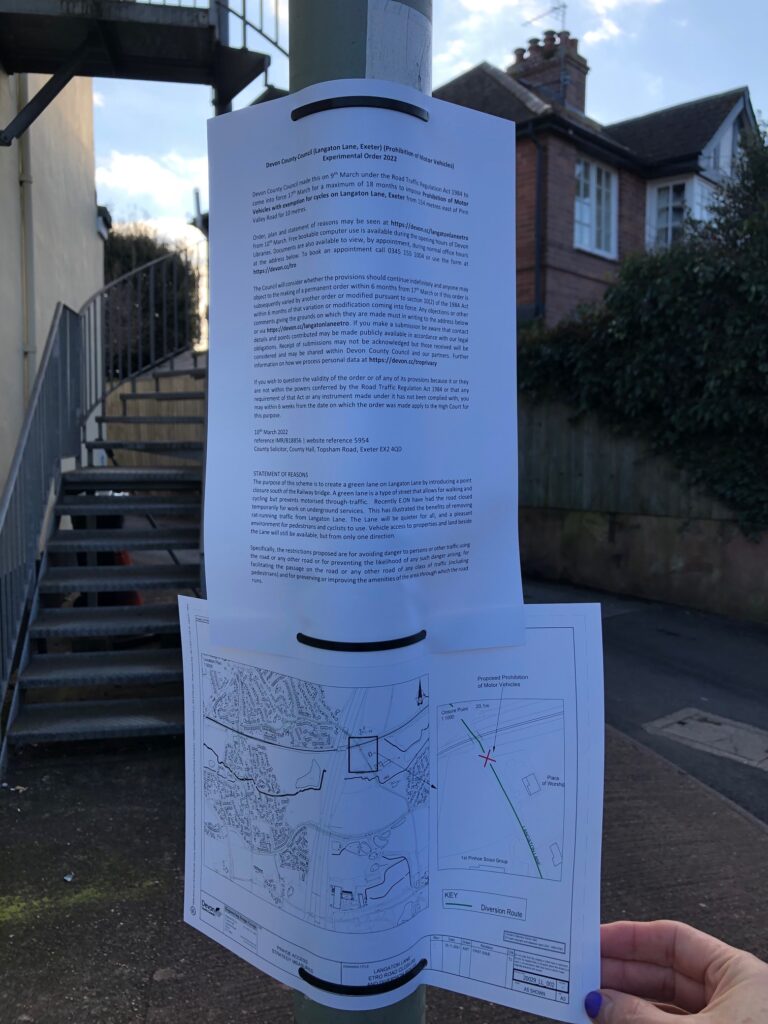 Posted in the village on Friday 4th March, Devon County Council have announced their Experimental Order for the closure of Langaton Lane to through traffic:
"The purpose of this scheme is to create a green lane on Langaton Lane by introducing a point closure south of the Railway bridge. A green lane is a type of street that allows for walking and cycling but prevents motorised through-traffic.
Recently E.ON have had the road closed temporarily for work on underground services. This has illustrated the benefits of removing rat-running traffic from Langaton Lane. The Lane will be quieter for all, and a pleasant environment for pedestrians and cyclists to use. Vehicle access to properties and land beside the Lane will still be available, but only from one direction."
Green Lanes prioritise pedestrians and cyclists, which is a welcome approach to this important route to Pinhoe's Scout Hut and our community field. However, there is no mention of the resilience route that Langaton Lane provides for vehicular traffic travelling through Pinhoe.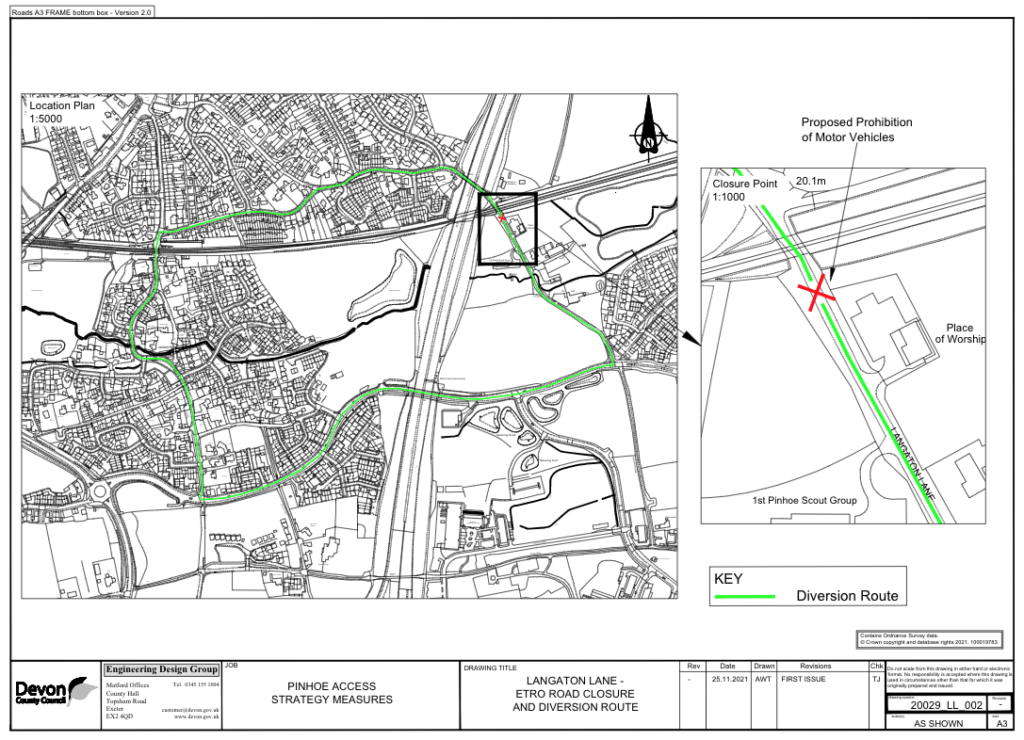 DCC info: Why is this being proposed?
"Langaton Lane is a relatively narrow lane, limiting two way traffic in places with no footways east of the motorway bridge. The 1st Pinhoe Scout Group, Pinhoe Target Shooting club, a meeting place for the Plymouth Brethren, WPD station, two residential properties and a storage facility for fairground equipment are situated on the lane. The lane is surrounded by planned residential and employment development in the East of Exeter Growth Point.
In its current form,  Langaton Lane is unsuitable for a significant amount of additional traffic. The lack of facilities for people walking or cycling, or people with mobility assisted vehicles is also a concern, and a future situation with higher pedestrian and vehicular traffic levels without improved pedestrian facilities is likely to lead to a worsening of road safety.
Creating a green lane on Langaton Lane (allowing walking and cycling but no through traffic) is identified in the Exeter Transport Strategy, following a recommendation to include green lanes as agreed at the Scrutiny Committee meeting which was held in June 2020. This would provide an attractive active travel link for Pinhoe residents to access employment at the Science Park, Cranbrook and also the future planned Clyst Valley Trail.
"During recent months (June 2021 – March 2022) Langaton Lane has been closed under a TTRO for works to services. The temporary closure has been well received locally and requests have been made by members of the public to move to a permanent closure of the lane. In order to identify the support for this scheme, and to test out the access, an ETRO would allow these to be trialled before introducing a permanent change."
Relevant webpage click HERE: there is also info on the Devon County site about their Doing What Matters scheme which has been identified as applicable to Langaton Lane: https://www.devon.gov.uk/doingwhatmatters/
---
NOTE: in his reply to a request for clarity regarding changes to DCC traffic strategy for Pinhoe (17NOV21) William Pratt referred to "a new crossing near Parkers Cross Lane, which I believe is the most popular new infrastructure proposal in the recent survey." County Councillor Tracy Adams canvassed opinions from residents near to Langaton Lane (no public info available) and no access has been granted to information regarding the survey mentioned / 18th November 2021