Grid reference: SX964944, 50°44'26"N, 3°28'10"W
INTRODUCTION
Pinhoe is a suburb of Exeter in Devon, on the north eastern edge of the city; the small village parish joined the city of Exeter in 1966.
The 1901 census reported Pinhoe's population at 952 which increased to 6108 a hundred years later in 2001. Ten years later the population increased to 6454 (2011 Census). Since then, Pinhoe's population has increased by 50% to over 9000 residents (Pinhoe Community Hub report, 2022) and is still growing, with a continuing schedule of housing development.
CITY OF EXETER
As the county city of Devon, Exeter's population increased by 11.1% from 2011 to 2021 – higher than the 6.6% average population growth for England and higher than the general increase in population across the South West (7.8%). With a population of approx 131, 099 in 2022, this 1.32% annual growth rate is larger than London.
Demographics: The latest census report from the Office for National Statistics (ONS) notes an increase of 19.3% in people aged 65 years and over (in line with the national average), an increase of 11.1% in people aged 15-64 years (above the national average) and an increase of 3.3% in children aged under 15 years (below the 5% increase generally in England).
GREATER EXETER AREA
East Devon connects along Pinhoe's electoral boundary as part of the Greater Exeter growth point area. It saw a population increase of around 13.8% – the second largest population increase in the South West.
ELECTORAL BOUNDARY PROPOSALS
As part of consultations for the 2023 Boundary Review, Exeter City Council proposed that Pinhoe should form part of a new constituency outside the city area, joining East Devon along with St Loyes and Topsham >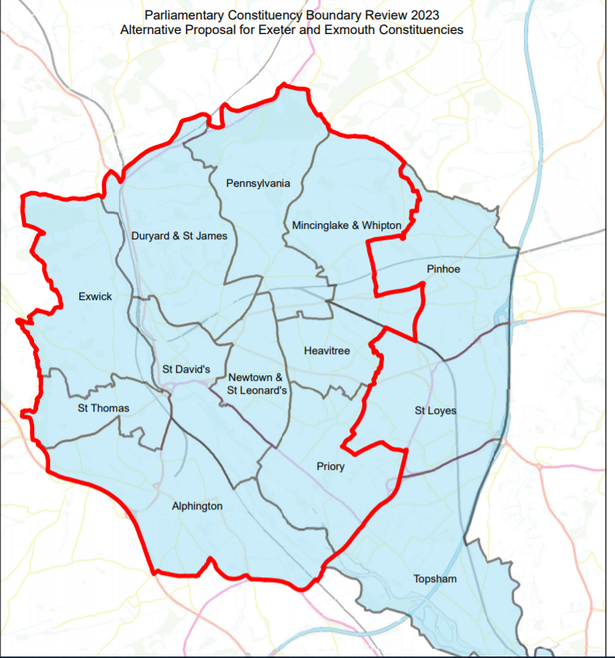 This proposal is due to be reviewed in 2023