Pinhoe Community Hub was registered as a Charitable Interest Company (CIO) in July 2019. It's working name, Friends of Pinhoe Library, reflects how the group began following a campaign to secure the longterm future of Pinhoe Library.
TRUSTEES
Val Dixon – who some of you may know as one of Pinhoe's Labour councillors (2004), former Lord Mayor of Exeter and recognised as Honorary Alderman in 2009 – has been longstanding chair of Friends of Pinhoe Library but stepped down last year to focus on her work as Trustee of the Hub. Other Trustees are: Cllr Duncan Wood (Labour, 2016-18, 2018-22, trustee of America Hall and Pinhoe Community Association), Cllr Tracy Adams (retired teacher and member of Pinhoe Pantomime, Labour councillor elected to Devon County 2021), Wendy Bodell (Trustee of Whipton Community Association, editor-publisher of Pinhoe Press and new Chair of Friends of Pinhoe Library), Rachael Hodgson-Magee (schools fundraising specialist and head of client services for management consultancy Halpin Partnership), Lynne Rose (over 30 years experience with Devon Library Services) and Angela Roberts (longstanding Secretary of America Hall for over 40 years).
CHARITABLE INTEREST COMPANY (CIO)
A CIO is a charity regulated only by the Charity Commission and not by Companies House. This reduces paperwork (and thus cost-effective) and is generally recognised as being advantageous to trustees with no previous experience of running a business, although trustees have management responsibility and are liable for breaches of trust and any wrong or fraudulent activity following usual charity standards.
Hub Business Plan: "The new structure provides an asset lock, a distinct organisational legal identify and limited liability. Although the CIO has a healthy reserves budget, sufficient to see the Community Hub through the crucial first 24 months of operation, the charity will retain reserves sufficient to meet its legal obligations should it need to be wound up."
PUBLIC SURVEYS
In 2015, 2500 surveys were delivered within the Pinhoe electoral ward, with 234 responses received (9%): "Feedback indicated that respondents wanted to see an expansion of community facilities. The most frequent requests were for extended and flexible opening hours, a café and a new, purpose-built community building to complement existing provision"
There was a further survey in July 2017 receiving 395 respondents (no info on how many delivered so no percentage response available) >
According to the Hub's business plan, 81% preferred the Station Road Playing Fields site. "192 narrative answers were analysed at a community event, which led to a publicly accessible toilet being incorporated into the plans. The response demonstrated a sustained high level of support for a Community Hub from within the Pinhoe community"
VISION FOR THE BUILDING
Drawings are available to view on the Hub noticeboard in Station Road park. Reflecting results from public consultation, the building is proposed to comprise of:
• purpose-built library (94 m²) securing the future of Pinhoe Library;
• Community Café (83 m²);
• multi-use meeting space (83 m²);
• 2 self-sufficient business hub and workspaces (27 m² , 22 m² with adjacent room (85 m²);
• changing rooms for sports and activities.
Although the business plan proposes the building design will be 'eco-friendly' in line with Exeter City Council's Net Zero Plan, no further detail is currently available. ECC declared a Climate Emergency in 2019 and have committed to being a Carbon Neutral city by 2030.

Plans and budgets are not yet updated following the Covid pandemic
BUILDING DEVELOPMENT COSTS
The build cost is currently estimated at just under £2m. The Hub plans state: "The community aims to raise £765,000 from a range of funders including public, private and grant making bodies and trusts and through local fundraising. Added to this are potential contributions from property developers through CIL and Section 106 funding. To this end, a comprehensive and detailed Funding Strategy has been developed. A Fundraising Group has been established to raise some local funding, although its primary role is to keep the local community engaged in and informed about the project. It is envisaged that local fundraising events organised by the Fundraising Group will continue following construction and will support revenue costs and local social events operating out of the Hub. The aim is to appoint a professional bid writer to approach larger trusts and grant-making bodies to secure the balance of funding required to construct the Hub"
FUNDING
Hub Trustees have presented the following budget to Exeter City Council as part of their funding proposal: Friends of Pinhoe Library received initial funding of £100k from Exeter City Council for a feasibility study (this has been subject to transparency concerns now resolved http://committees.exeter.gov.uk/documents/s76629/Exeter%20City%20Council%20-%20Signed%20Statement%20of%20Reasons%20-%20REDACTED.pdf)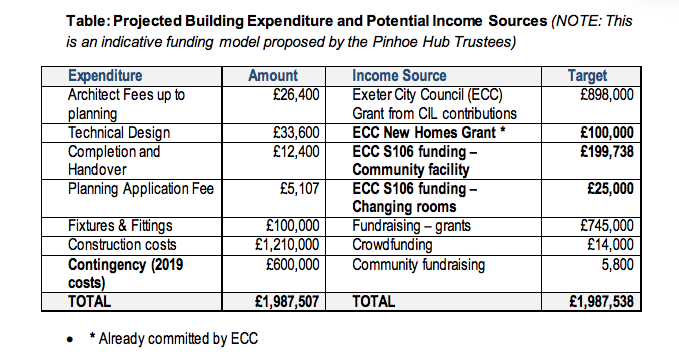 Full details, including the Hub's business plan, are available at this link: https://committees.exeter.gov.uk/documents/g6738/Public%20reports%20pack%2028th-Feb-2022%2017.30%20Executive.pdf?T=10
Following presentation of the Hub's business plan to the Council meeting in February 2022 , the committee formally accepted the funding request for in excess of £1m.
TIMELINE
Although the Hub social media pages proposes construction will take place "2021/22, with an opening date 2022/23", there's no current information on the building schedule. The Hub business plan suggests: "Once project funds are secured, the tendering, build and fit out is expected to take 16 months"
IMPORTANT NOTE: Planning permission has been granted but the Hub does not yet appear on the Council's Infrastructure Funding Statement, suggesting the timeline for development lies beyond the dates promoted.
Moreover, the Hub's business plan will need to be revisited to factor in significant build cost inflation alongside increasing service costs, as it adapts to new requirements for covid precautions and the prolonged energy crisis.