Pinhoe is the connecting point for traffic travelling from Exeter to East Devon, to Broadclyst but also to Cullompton, as well as connecting towns and villages across Mid Devon to the M5 motorway. Commuter traffic cuts directly through the village centre. Despite being within the electoral boundary, Monkerton is not included in current highways strategy planning for Pinhoe
PINHOE AREA ACCESS STRATEGY & ADDENDUM
The Highways plan developed by Devon County Council was published as the Pinhoe Area Access Strategy (PAAS) in 2013, and updated with an Addendum in 2019
DCC: "The strategy was created to support the Exeter and East Devon Local Plans and ensure that planned development in the Pinhoe area would be supported with appropriate and effective transport infrastructure measures.
"Since the PAAS was written, a number of the planned developments have come forward and much of the identified transport infrastructure delivered. There has also been additional development beyond that initially planned for and the designation of a Village Green on part of Eastern Fields prevents the Exhibition Way Link Road, one of the key mitigation measures." (see further info below)
PINHOE AREA ACCESS STRATEGY (PAAS) (available as a complete document here)
• estimates 100 vehicles per hour using Harrington Lane at peak times, and queuing traffic of up to 50 vehicles at the double roundabouts during peak times
PAAS ADDENDUM (available as a complete document here)
"The purpose of this addendum is to refresh the strategy to reflect current priorities and to identify additional transport measures that are required to continue to support sustainable development in the Pinhoe area." Prepared by Liz Holloway, Senior Transport Planning Officer at Devon County Council, in 2019
EXETER TRANSPORT STRATEGY PDF available here (17 pages)
Published by Devon County Council in November 2020, elements of PAAS have been superseded in the Exeter Transport Strategy, notably the designation of Langaton Lane as a GREEN LANE.
"The County Council has made good progress in delivering this strategy, with approximately £100 million of new transport infrastructure for the Exeter and East Devon Growth Point area since 2011. This has included motorway junction improvements, strategic cycling infrastructure, new bus services and new rail stations."
INFLUENTIAL PLANNING DECISIONS
In 2016, the Planning Inspectorate recognised a section of Eastern Fields as a 'Village Green' under the Commons Act of 2006, following a long campaign by local residents. (Appeal decision document available here). This meant that the planned route to mitigate traffic along Harrington Way, the new Exhibition Way road, could not be built.
---
---
Following a Freedom of Information Request (FOI) by Pinhoe Forum in 2020, Devon County Council released the following map showing Pinhoe Annual Average Daily Traffic (AADT) Flows: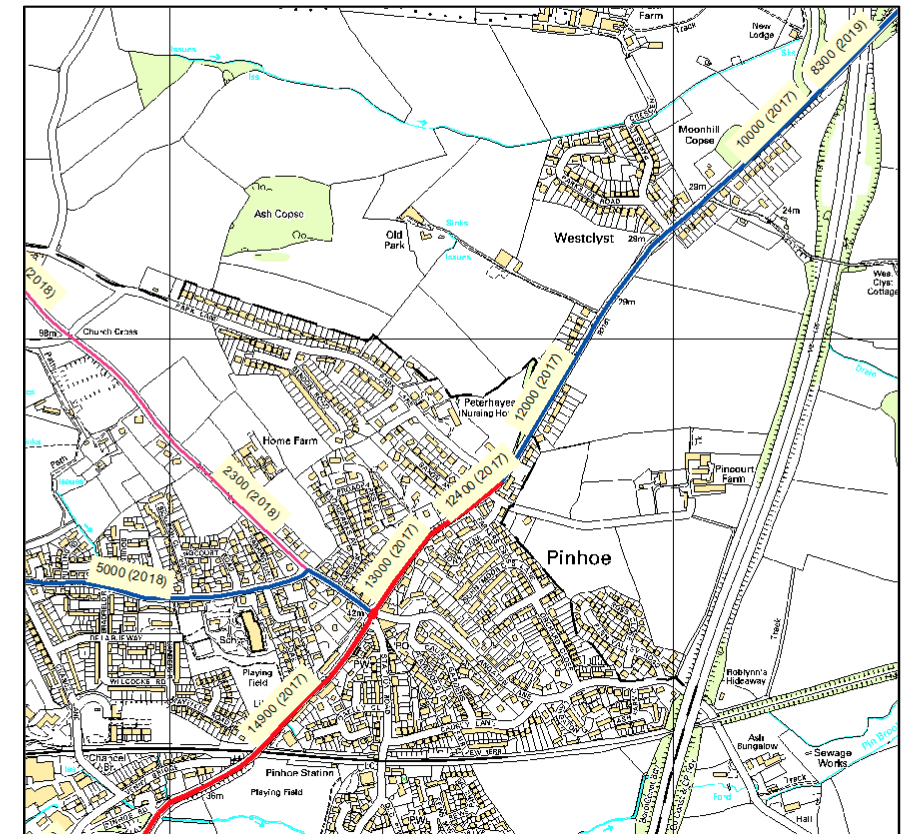 LOCAL MONITORING
By August 2021 over 1200 vehicles per hour travelled through the double roundabouts during rush hour 5-6pm
In July 2022, volunteers monitored 1344 travelling across the double roundabouts with a further 706 vehicles using Church Hill.

If you'd like to monitor traffic in a specific area, please get in touch for clickers and monitoring forms