We're updating information about community organisations in Pinhoe. If you have any info about a group that isn't featured, please send to: mail@portfoliofive.co.uk
---
PINHOE COMMUNITY ASSOCIATION
Registered as a charity in 1978, the PCA was instrumental in supporting many local community groups; unfortunately the group has been unable to hold any meetings since before the pandemic.
Chair: Sue Salter, Pinhoe Church Committee
Trustee: Ruth Smith, retired City Councillor and Deputy Mayor (Conservative Party)
PINHOE COMMUNITY CENTRE: AMERICA HALL
Built with funds donated by the families and friends of American servicemen who were stationed in Devon during the Second World War. Opened in 1952 and run as a charity, the Hall provides facilities for a wide range of community groups, businesses and religious organisations: click here for a link to their diary of events.
Trustees: Robert Oliver (2016), David Blundell (2021), Phil Hoare (2021), Robin Hoad (2021), Chris Cutland (2021), Sue Cutland (2021), Ryan Williams (2020), Paul Hanson (2018), Jean Thornett (2016), Duncan Wood (2016, City Councillor Labour Party), Richard Adams (2012), Colin Thorne, Ian Roberts; Secretary: Angela Roberts
PINHOE COMMUNITY HUB
Registered as a Charitable Incorporated Organisation (CIO) in March 2019 with a working title of Friends of Pinhoe Library. The Hub group formally submitted their business plan to Exeter City Council earlier this year (available here). Planning permission for the community centre has been granted on the site of the changing rooms at Station Road Playing Fields (see pics below)
Trustees: Val Dixon (retired City Councillor and Lord Mayor, Labour Party), Wendy Bodell (publisher of Pinhoe Press, Chair of Friends of Pinhoe Library, Chair of Whipton Community Association), Tracy Adams (County Councillor, Labour Party), Duncan Wood (City Councillor, Labour Party), Rachel Hodgson-Magee, Lynne Rose, Angela Roberts (Secretary of Pinhoe Community Centre, America Hall); Treasurer: James Dalgleish (Premier Financial Planning)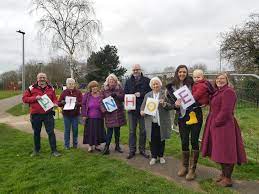 PINHOE VILLAGE
The Pinhoe Village group was founded in 2019 to collect and celebrate local history. Monthly meetings gathered a collection of maps, documents and photographs which grew into an exhibition and began both a community archive and an annual fundraising calendar.
Members of Pinhoe Village formed Pinhoe Community Support with the Community Helpline in the early days of the covid pandemic. Helpline team: Martyn Goss, Kate Jago, Margaret Mogford were joined by Wendy Cranston, John Thorndyke; Volunteer coordination: Jane Fletcher-Peters; Treasurer: Simon Moore. After more than two years of supporting our community, delivering over 2000 plates of afternoon teas, hundreds of miles walked and cycled delivering prescriptions, and countless shopping lists delivered by dedicated volunteers, the Community Helpline continues to provide a range of support to local residents.
The Little House, funded by local donations and refurbished by volunteers, began as a community library / pantry / plant-share during lockdown. It's still at the top of Station Road and raises funds for the Helpline.