The Pinhoe Area Access Strategy (PAAS) was prepared in 2010, agreed in January 2011 and published by Devon County Council in July 2013. The accompanying Addendum was prepared by Liz Holloway, agreed by William Pratt and published by Jamie Hulland in 2019
DCC: "The strategy was created to support the Exeter and East Devon local plans and ensure that planned development in the Pinhoe area would be supported with appropriate and effective transport infrastructure measures. These included:
improved choice of sustainable modes
enhancing public realm and safety
providing additional route choice
"Since the PAAS was written, a number of the planned developments have now come forward and much of the identified transport infrastructure delivered. There has also been additional development beyond that initially planned for and the designation of a Village Green on part of Eastern Fields prevents the Exhibition Way Link Road, one of the key mitigation measures.
"The purpose of this addendum is to refresh the strategy to reflect current priorities and to identify additional transport measures that are required to continue to support sustainable development in the Pinhoe area"
Pinhoe Area Access Strategy (27 page PDF)
Pinhoe Area Access Strategy Addendum (11 page PDF)
Following a Freedom of Information Request (FOI) by Pinhoe Forum in 2020, Devon County Council released the following map showing Pinhoe Annual Average Daily Traffic (AADT) Flows: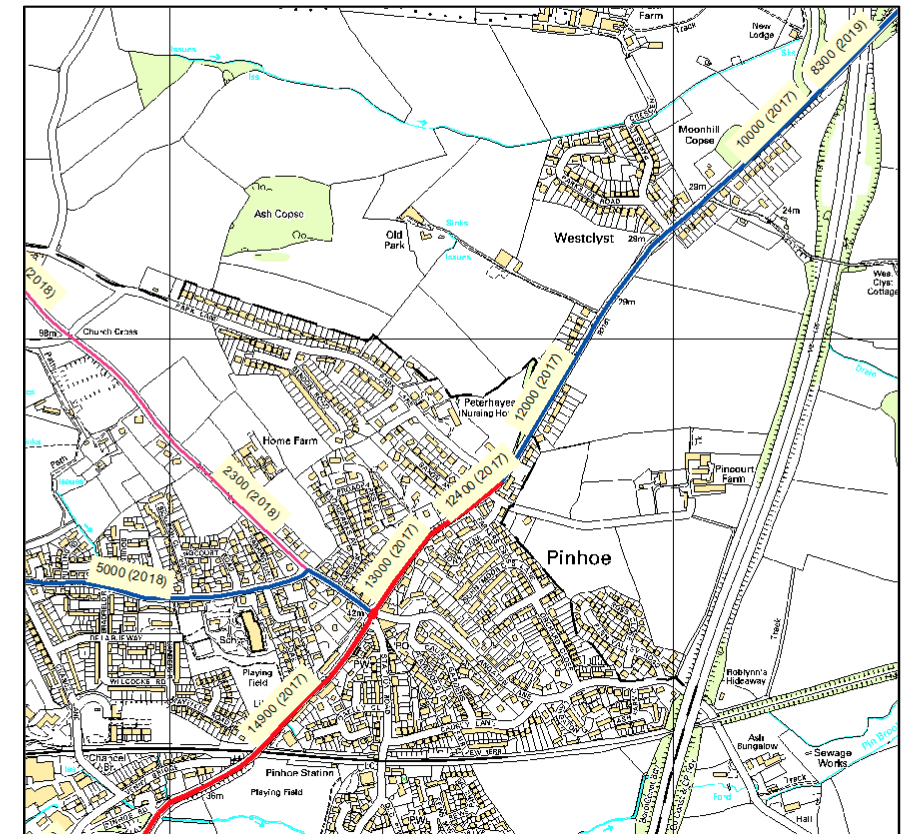 ---
EXETER TRANSPORT STRATEGY
Published by Devon County Council, November 2020:
"The County Council has made good progress in delivering this strategy, with
approximately £100 million of new transport infrastructure for the Exeter and East
Devon Growth Point area since 2011. This has included motorway junction
improvements, strategic cycling infrastructure, new bus services and new rail stations."