A 'master plan' is a long-term planning document that provides a detailed framework to guide future growth and development in a specific location. It takes an overview of a defined area and sets out general principles for how that area will be developed, including the range of building uses, densities and heights that are acceptable.
---
• MONKERTON & HILL BARTON MASTERPLAN
Described by Exeter City Council as designed "to guide the future development of a sustainable urban extension to the north east of the city. It will supplement policies in the adopted core strategy .. and will be important for guiding future planning applications for the site. The Masterplan has been produced to enable to comprehensive development of this area through the planning process"
The consultation period ran from 1 March to 12 April 2010. It was approved by Exeter City Council Executive on 28 September 2010 and 23 November 2010.
Available online here: https://exeter.gov.uk/planning-services/major-schemes/monkerton-hill-barton-masterplan/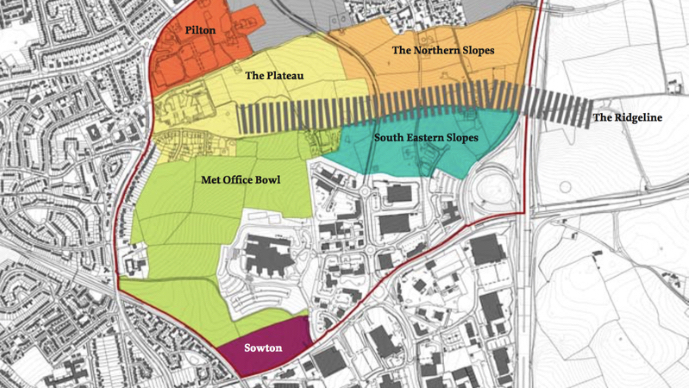 ---
• CLYST VALLEY REGIONAL PARK MASTERPLAN
This award-winning 25 year masterplan covers an area half the size of Exeter, beginning at Pinhoe's boundary edge with East Devon District Council.
"Devon is well-known for its countryside with national parks, areas of outstanding natural beauty, estuaries and beautiful coastline. But there is greater pressure than ever on these stunning locations. With a growing population, it is necessary to provide much-needed homes, jobs and infrastructure. As more people explore the countryside, it is imperative that we protect and enhance our green spaces because getting active outdoors keeps us healthy and happy, plus the countryside can help us address climate change by storing carbon and water, as we work towards becoming carbon neutral by 2040"
The concept of the Clyst Valley Regional Park is that a number of greenspaces will be linked by greenways. There is no intention that the whole of the Regional Park will become accessible to the public, as most of it is in private ownership. However, 762 hectares is currently accessible and the ambition is to increase that by a further 740 hectares over 25 years. A large proportion of the Regional Park is within the National Trust's Killerton estate. 40% of the Regional Park is within a floodplain.
The concept of the Regional Park originates from the Green Infrastructure Strategy (Exeter & East Devon Growth Point Team, 2009). The diagram below is taken from this strategy and shows the 'clyst meadows' as a "well defined network of accessible semi-natural greenspaces and less accessible biodiversity rich areas…creating a strong buffer between [Exeter] and the countryside".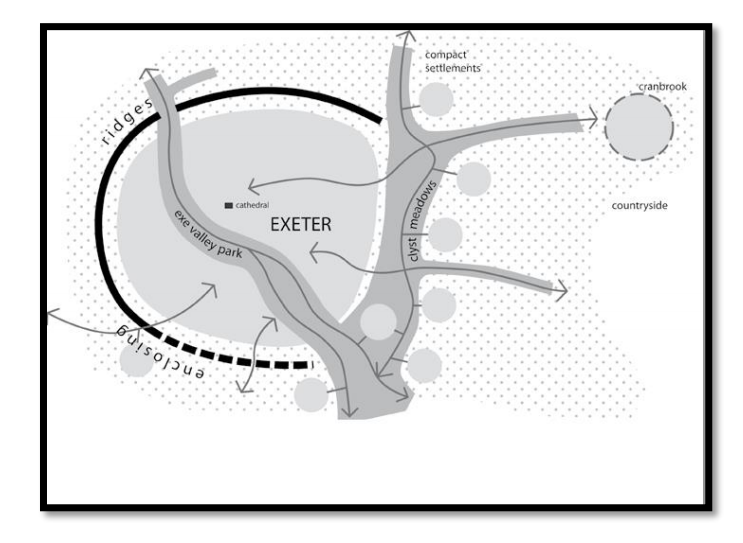 Downloadable pdf (92 pages) > https://eastdevon.gov.uk/media/3722704/cvrp-masterplan.pdf