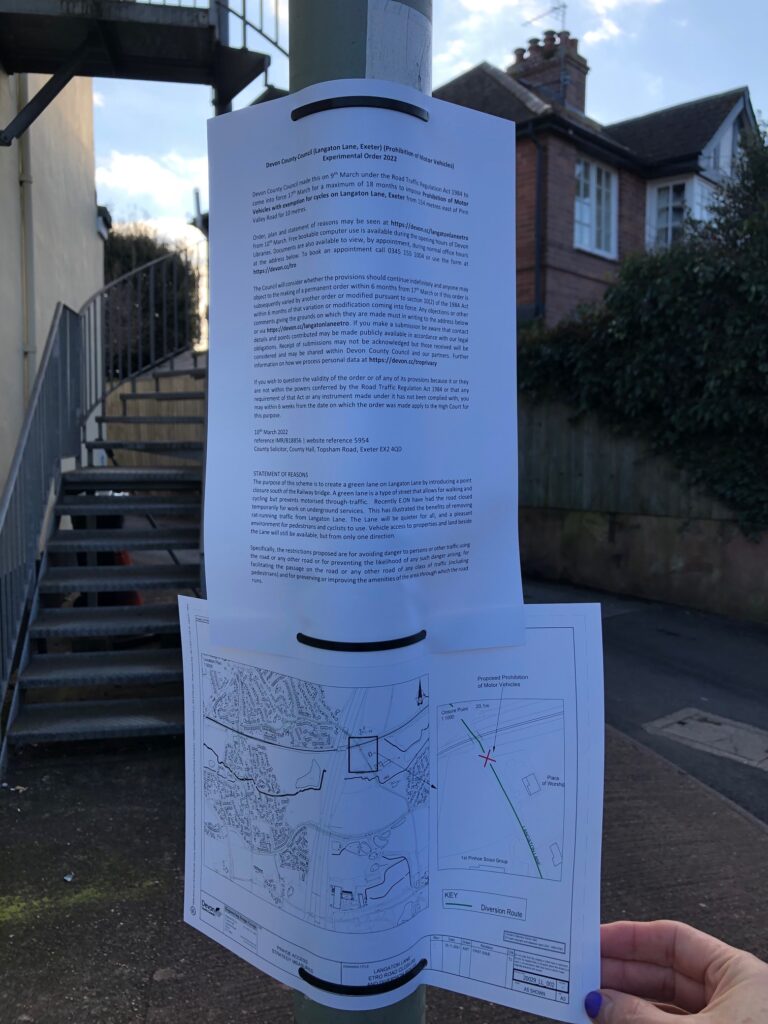 Posted in the village on Friday 4th March, Devon County Council have announced their Experimental Order for the closure of Langaton Lane to through traffic:
"The purpose of this scheme is to create a green lane on Langaton Lane by introducing a point closure south of the Railway bridge. A green lane is a type of street that allows for walking and cycling but prevents motorised through-traffic.
Recently E.ON have had the road closed temporarily for work on underground services. This has illustrated the benefits of removing rat-running traffic from Langaton Lane. The Lane will be quieter for all, and a pleasant environment for pedestrians and cyclists to use. Vehicle access to properties and land beside the Lane will still be available, but only from one direction."
Green Lanes prioritise pedestrians and cyclists, which is a welcome approach to this important route to Pinhoe's Scout Hut and our community field. However, there is no mention of the resilience route that Langaton Lane provides for vehicular traffic travelling through Pinhoe.
The webpage from this notice doesn't yet connect to further information, but there is info on the Devon County site about their Doing What Matters scheme which has been identified as applicable to Langaton Lane: https://www.devon.gov.uk/doingwhatmatters/
In his reply to the Forum's request for clarity regarding changes to DCC traffic strategy for Pinhoe (17NOV21, see previous posts), William Pratt from DCC referred to "a new crossing near Parkers Cross Lane, which I believe is the most popular new infrastructure proposal in the recent survey."
Pinhoe's Devon County Councillor, Tracy Adams, has been canvassing opinions from local residents living near to Langaton Lane and we've asked for access to information regarding the survey mentioned by Mr Pratt. There has been no reply since 18th November 2021